Power to your customers. Results for your business.
Boost your sales with Newpay, the digital credit account that lets your customers buy big, pay small.
Get in touch
Partnering with leading brands
How can Newpay grow your business?
Increase sales
Empower your customers to make bigger purchases with a payment option that seamlessly fits in to your existing checkout process.
Drive repeat spending
Your customers only need to apply once. They can use Newpay again and again to effortlessly make multiple purchases from you.
Grow your customer base
Market-leading and fully regulated underwriting expertise lets us responsibly say 'yes' to more of your customers.
How Newpay works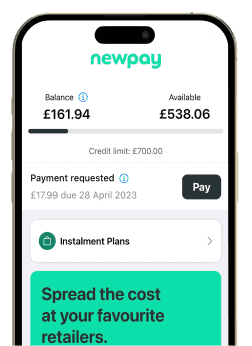 1. Apply

Without leaving your site

After a risk-free eligibility check, customers apply and receive an instant decision with a credit limit up to £5K.

2. Buy

Driving bigger basket sizes

Repayment plans are available between 3 and 36 months with no minimum spend.

3. Repay

Supporting your cashflow

While customers make their repayments to Newpay, you receive full settlement in days.

4. Repeat

Boosting repeat spend

Returning customers can simply log in and use Newpay again without reapplying.
Get in touch
Here for your customers
Flexible payment options
With the choice of fixed monthly payments or revolving credit, your customers choose the right option for them.
Responsible lending
Customers undergo a credit assessment to make sure they receive a suitable limit, which can be used across large or small basket sizes.
Credit they control
Spending can be easily managed through their account with just a single monthly payment to remember.
Get in touch
What our trusted partners say about Newpay
We want our customers to have the best shopping experience and flexibility at every stage of their purchasing journey. Newpay supports this by offering a comprehensive range of payment options and seamless integration into our checkout experience.
THG spokesperson
Discover more about Newpay
Redefining the checkout experience

As we go from plastic to platform, what can your business do to provide for your paying customers?

Read more

Newpay vs instalment plans: What you need to know

Customers want flexibility and convenience, not to jump through hoops every time.

Read more

Newpay vs Buy Now Pay Later: what you need to know

Why your customers want a regulated alternative to power their bigger purchases.

Read more
Ready to grow your business?
Discover the benefits of partnering with Newpay. From our pricing model to how to sign up, get in touch today to find out more.
Get in touch